The Busbecue is a functional portable barbecue in the design of the classic split screen camper. They can also be used as a fire pit as the nights get colder, for keeping warm, toasting marshmallows, or just simply because fire is fun The Busbecue's are made entirely in East Anglia, utilising a combination of modern techniques as well as good old fashioned metal craft to create the stunning designed Busbecue.
Designed and manufactured by Chicken Shed Creations, they are a one of a kind product!
They fit easily in the back of your van or car, so it's ideal to take to the beach, camp site, park, or to family and friends.
Table top grills cook just as well as traditional larger units, but are much more convenient being compact and portable; but still incorporates a 21" x 8" cooking area, which is perfect for small a gathering where you don't need a drum sized barbecue.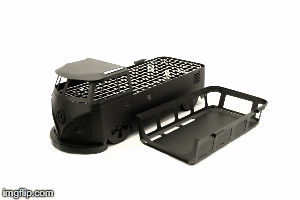 AVAILABLE IN A CHOICE OF FINISHES:
Heat proof black, heat proof clear lacquer, or plain unfinished to finish yourself or to produce the rustic 'rat look'.
As we design and manufacture these ourselves, we may be able to tailor one to your specific requirements or needs, just ask.
Welded construction, so no assembly is required.
Overall size is 56cm x 22cm, weighing 6.5kgs.
Made from 2mm thick sheet steel, for comparison a steel oil drum barbeque is typically only 1.2mm thick, and a 50p coin is 1.78mm thick.
We use a range of welding techniques to ensure robust construction and sturdiness. The hinged lid is removable to make it more versatile to use.
The cooking grill is 1" square, heavy gauge stainless mesh for durability and ease of cleaning.
The Busbecue is supplied with four removable legs so you can raise it off the ground if required.
Also supplied is a woven plastic sack, you can put the bus back inside when it's cooled down and this will help protect your Busbecue and help keep your vehicle clean on the way home.